This article will cover how to check how many Permits/Overnight of Visitor Parking a Resident has used:
1. Log into Condo Control and select Security & Concierge from the main menu.

\
2. Click on the first icon from the left signifying Visitor Parking.

3. Enter the Resident's Unit Number and click on the Unit Number from the drop down list.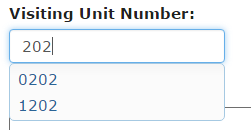 4. Visitor Parking Permit use is listed in the space beneath the unit number.

5. Click the Details button to see the details of the parking permits issued.

6. The Details of the Parking Permits issued will be shown in a window