Although Proxies can be filled out online, some residents may complete paper copies. To upload these paper copies, please follow the steps below!
1. Login to Condo Control Central!
2. Click on Proxy Voting from the left side menu.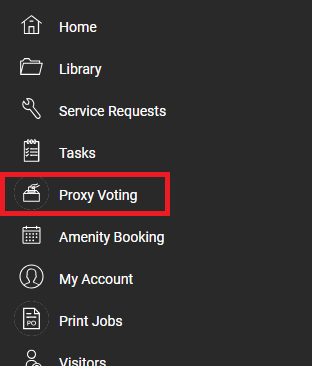 3. Once you click on the Proxy Voting tab, the Summary screen will now be shown - click on the Administrative button.

4. Once you have the scanned proxy form downloaded onto your computer and ready for upload - click on the Select Unit drop down and select the unit you are uploading the form for.

5. To choose the file for upload, click on the Choose File - a file Folder will pop up and you can select the proxy form file from your file folder, once you have selected the file, click Open.

6. Once you have selected the Unit and chosen the file for upload - click on Save to save the Proxy form for the Unit.

7. You will then see that the new Proxy form has been uploaded and all details can be found here. To preview the pdf document, click on the first preview icon. To delete the form, click on the trash icon. To download the pdf document, click on the last download icon.

8. If you have multiple forms to upload, you may continue the process by selecting a new unit and their corresponding proxy form document and the list will update to show the new proxy form uploaded.