When creating a Purchase Order, you will first need to set up and edit your purchase order settings in the General Settings. 
1) Go to the Welcome tab and press on it and you will find the Setup tab which you will press.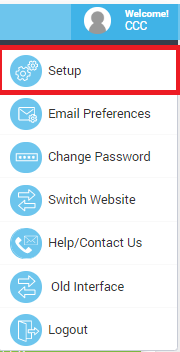 2) Scroll down and click on the Purchase Order tab

3) Click on the Edit tab 
4)  Please follow the list according Editing your Purchase Order Settings 
a) Corporation Number:  Please put in your Corporation Number
b) Custom Text:  Put in any customisation text you would like your Purchase Order to have
c) Print Mode Default: Choose either landscape or Portrait for your Purchase Order format 
d) Service Request Comment Type: For any service requests comments can either be internal                  or public depending on your Purchase Order.
e) Administrative Status for PO:  You can put in this section what areas will require approval in            the Purchase Order
f) Once you have all 5 steps you can now Save this Purchase Order Setup  or if you wish to              Cancel/ delete this Purchase Order Setup you can do so by pressing Cancel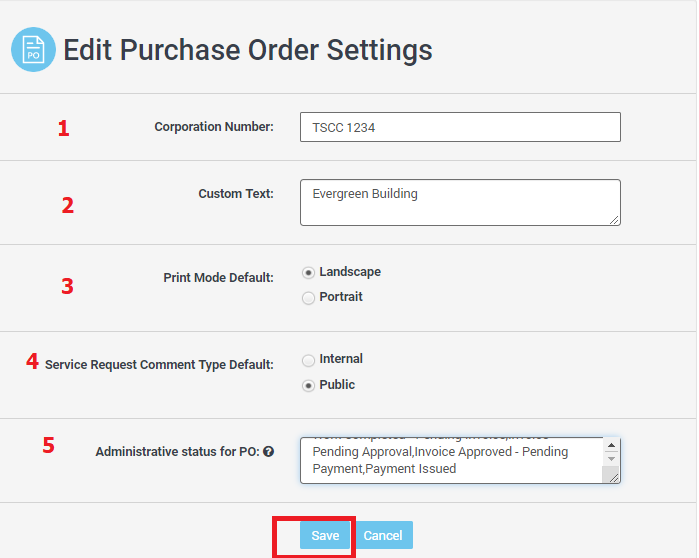 5) If you are requiring the Purchase Order  you have created to be approved by a certain number of Individuals  along with certain  minimum to maximum dollar amounts for approval please follow the next steps below: 
A) First click on the Approval rules tab 
B) Then click on the Edit tab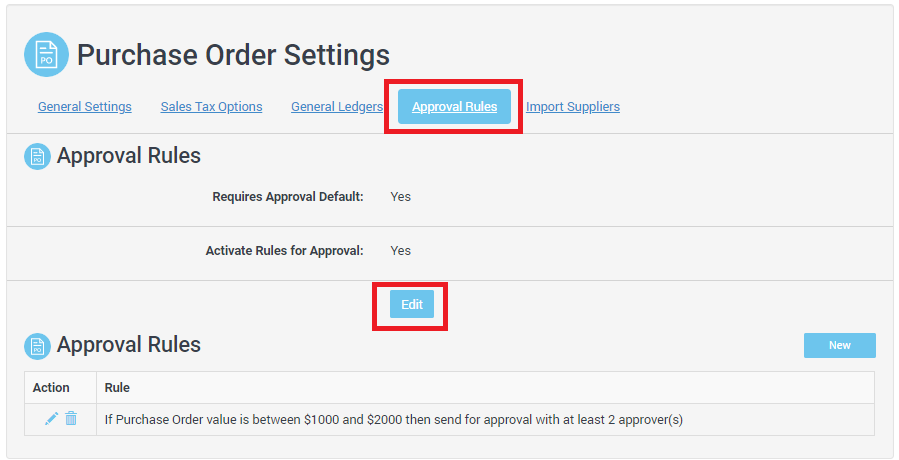 6) Please check off  in the " Requires Approval Default" if the Purchase Order requires approval.  Secondly please check off in the " Activate Rules for approval " if the rules you have created (this will be shown on how to create these rules in step 7) if you would like to have those rules activated or not.  Then once complete then press the Save tab.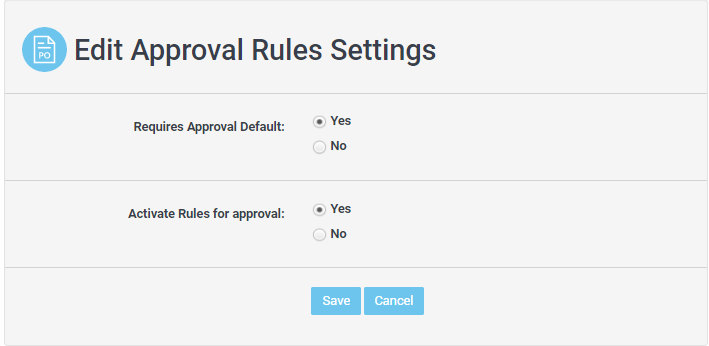 7)  To create Approval Rules click on the New tab as shown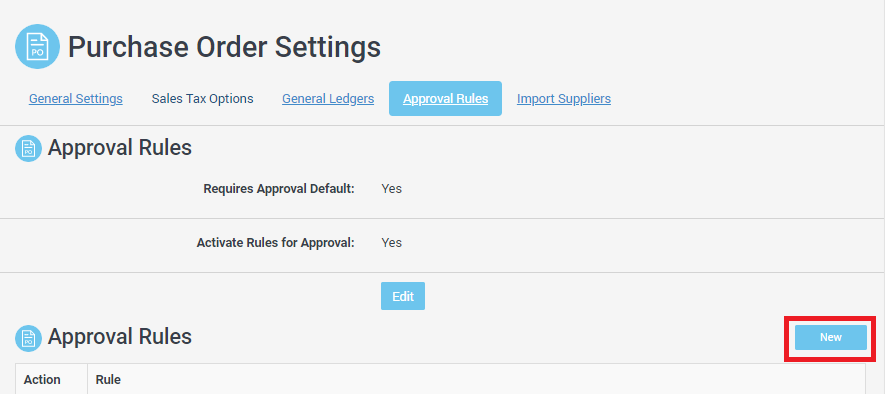 8)  Please follow each step when creating your New Approval Rule
      1) Lower Limit:  What is the  minimum dollar amount that is required for approval 
       2) Upper Limit:  What is the maximum dollar amount that is required for approval 
       3) If you require the Purchase Order to have approval: please check the box  for " Send for approval" 
       4)  Number of Approvers:  How many people are required to approve this purchase order for it to be                                                    approved ?
       5) Press Save if you wish to save this new rule  or press Cancel to discard this new rule you have                     made.