In this user guide we will show you how to create a new asset
1. Click on the Asset Management feature located on the left hand side.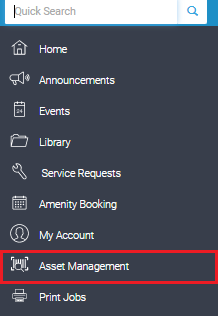 2. Click on the New Asset tab located on the right hand side.

3. Please fill in the description of the Asset:

LEGEND: 
Description:  Please provide the description of the Asset
Asset Type:  Choose the type of Asset your new Asset is
Barcode:   Enter the barcode associated to this Asset
Unit: What unit is this Asset associated to 
User: What is the user associated to this Asset
4.  Upload an image associated to your Asset. 

5. Any documentation associated to this Asset please upload the files here.

6.  If you have created another custom field please complete (ex. color, number of sails, registration number). 
7.  Click Save 

Now you have created a new Asset.