1. Log into Condo Control and navigate to the Setup page. To do this, click on the "Welcome" button on the top right-hand corner of your account.
2. From the drop-down menu, select "Setup".
3. On the left-hand side, select "Workspace Settings" from the list.
4. Click on the tab titled "Electronic Consent". Then click on the "pencil" icon under "Electronic Consent Settings".

5. On this page, click on the drop-down arrow from "Selected Option", and click "Yes".
6. Click "Save".
7. Under the "Features" section, select the "pencil" icon beside "Electronic consent for legal documents".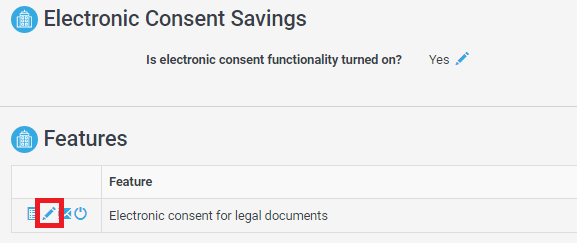 8. We offer two types of forms. Ontario Specific and General. Under the "Form Type" drop-down, select the type you wish to use.
Ontario Specific - This is the standard government form a Condominium should use to receive legal document electronically. NOTE: The wording of this form cannot edited.
General - This form is for all workspaces located outside Ontario, Canada. NOTE: The wording of this form can be edited, as noted in red in the below screenshot, you will need to Contact Support to change the wording.
Some other settings you can adjust are:
Header Details
Enforce Signature Drawing
Reminder Frequency
Select Members, member group usually added is "Owners"
Select "View Page Layout" to view how your form will look.
Select "Save".