When reviewing pass-on log details, you are able to view the details of the log, its attachments, and see who has reviewed the log. Additionally, you may need to recall a log. In this guide, we will review how to check who has viewed a pass-on log and how to recall a log to prevent team members from continuing to view its details.
View Other Related Articles:
How to View Reviewers
1. Click on Security and Concierge.

2. Select Pass-On Logs from the drop-down and enter any information relating to the Pass-On Log.

3. Click on the Pass-On Log under What Happened from the list

4. You will then see the Pass-On Log Details pop up with the details of the log, any relevant attachments, and who it was reviewed by.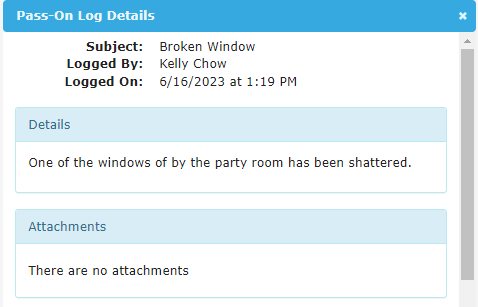 How to Recall a Pass-On Log
You may need to cancel/recall a pass-on log because an issue was resolved.
1. Follow steps 1 -3 in the previous section and you can select Recall under the Action column.

Alternatively, you can select the Pass-On Log under the What Happened column to open the Pass-On Log Details.

Then select Recall at the bottom of the pop-up.

2. Once a pass-on log is recalled, this will prevent team members who have not already reviewed the pass-on log from receiving it.