Follow the steps below on how to add or update vendors as a site administrator.
1. Login to Condo Control and access the workspace you wish to add or update your vendors in.
2. Place your cursor on the "Accounts Payable" option in the left-hand navigation menu, than click "Vendors" from the pop out menu.

3. To add a new vendor click "New Vendor" on the right side of the page.

Note: You may also download a Vendor Summary Report by placing your cursor over the arrow to the right of the new vendor button, than clicking "Download Vendor Summary" from the drop down menu.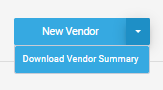 4. Fill out the required information for the new vendor. You can categorize your vendors based on the categories you have configured in the Vendor Portal setup page. You will need to include the company name, the name and contact information of the principle contact of the vendor. You may also include Tax ID number, details of the vendors insurance, a rating of the vendor and any notes about the vendor. Once this information has been added press "Save" at the bottom of the page and the vendor will be added to your vendor list.

5. You may view, delete or edit your current vendors, as well as to view the vendors approval status, ratings, and contact details from the vendor home page from step 2. On this page you can search for a specific vendor using the vendors name, contact email address, as well as sort by category of vendors.

Note: Vendors requiring approval can be viewed by clicking the "Vendors Pending Approval" button. Vendor approval is covered in a separate user guide which can be found HERE.
6. To edit or delete an existing vendor, click on the vendors name from your vendor list.

7. This will take you to the vendors profile with all information pertaining to the vendor. There are 3 main tabs on this page.
General - Contains the general information of the vendor. You may edit the information of this vendor by clicking "Edit" at the bottom of the page, or send a Welcome Email to the vendors primary contact by clicking "Send Welcome Email".
Compliance Documents - This tab contains the business number, certification and certification expiry date.
History Records - This tab will show you who created the vendor, when they were created, when any welcome emails were sent, and when any changes were made to the vendors profile.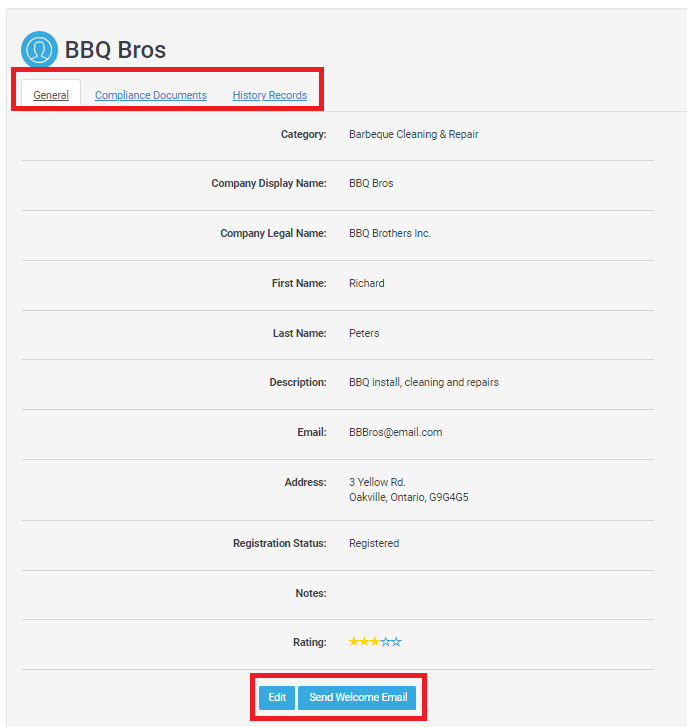 We hope this guide has helped you better understand some of the functions of the vendor portal. We also have a detailed video guide for these features which can be found here.