This user guide will demonstrate how to log a visitor in the system (if they do not require parking).
1. Log into your Condo Control account and click Security and Concierge from the main menu.

2. Click on the first icon from the left signifying Visitor Parking.

3. Enter the Resident's Unit Number and click on the Unit Number from the drop down list.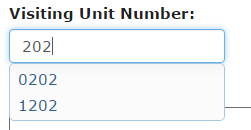 4. Once you have chosen the Visiting Unit Number, you have 2 options for the Visitor Name:
Option 1: You can search if they are a past visitor by clicking on the Search for past visitors dropdown menu.
Option 2: If the visitor is a new visitor please type in their name in the New Visitor Name box

5. Select Visitor Type, these options can be customized in Workspace Settings.

Click here to learn how to issue a parking permit if the visitor requires parking.
6. Enter any comments about the visitor in the Comments box.

7. Once complete, click the Save button to add the Visitor to the system.