There are two methods that can be used to invite users to your property's workspace. This guide shows you how to generate and send a customizable Welcome Letters via the Welcome Site Settings. Details on how to invite users via the Unit File can be found here or by clicking the link at the bottom of this page.
Before you generate Welcome Letters, there are some settings you will want to review first. Please use the below user guides as your to-do-list.
To send welcome emails or letters to your residents using the Welcome Site Settings page please follow the steps below.
1. First you need to access the setup page. To do so, open up the Welcome menu and click Setup from the drop down menu.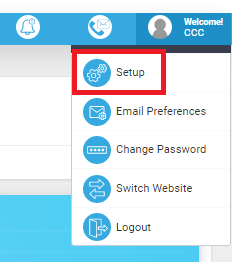 2. Select Welcome Site Settings from the left-hand navigation menu.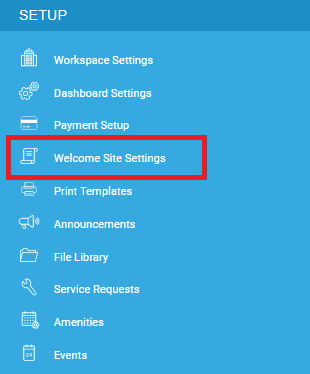 3. On this page you can edit the types of information that your residents must fill out to register their account by clicking the edit button at the bottom of the page. Each type of resident group can have different settings. To send welcome letters you will click the option Generate Welcome Letters.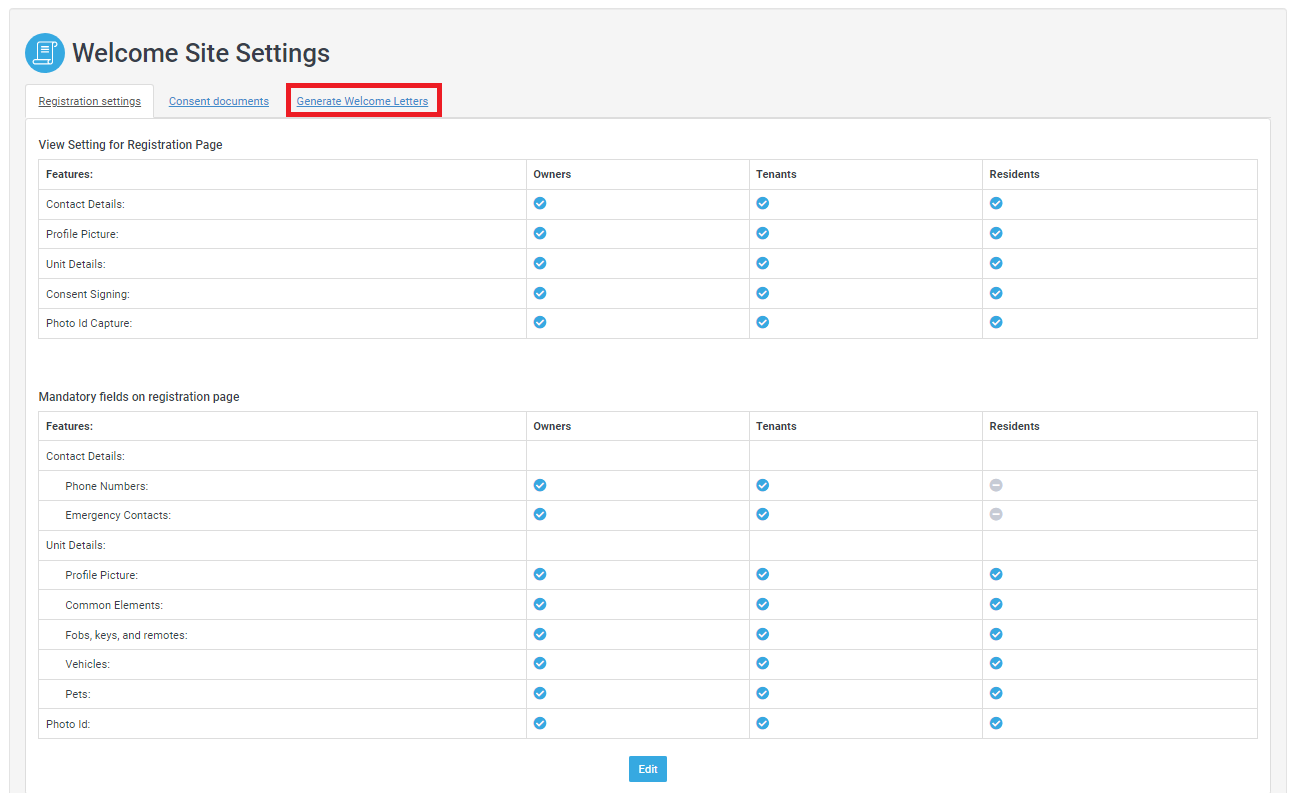 4. There are several options that must be selected on this page depending on how you want to send the welcome letters, who you want to send the welcome letters to, and how you want the welcome letters to look.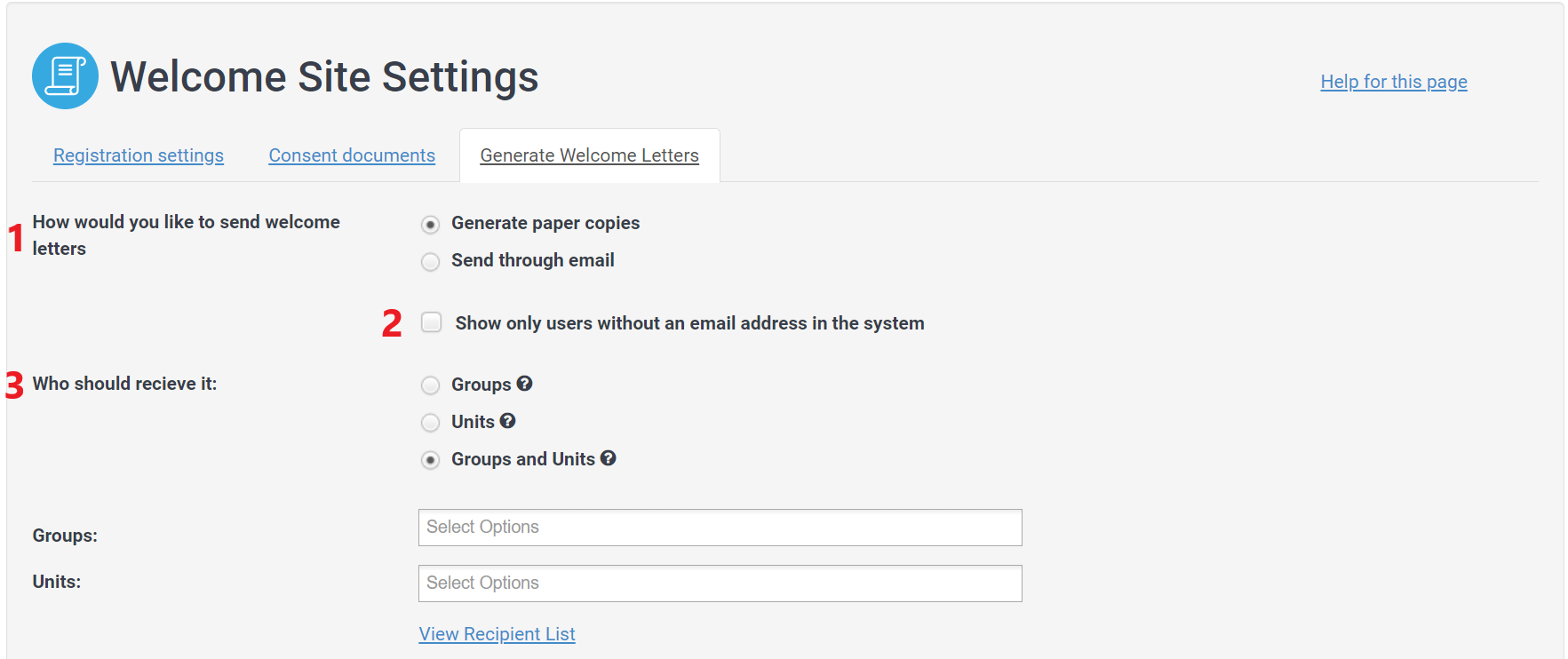 1) The first option you will select is if you want to create paper copies of welcome letters to be printed and sent to your residents, or send the welcome letters via email to the residents email address on file.
Generate Paper Copies
When using the Generate paper copies you will decide how your welcome letters will look.
Default Welcome Letters
This will generate paper copies using the default Condo Control welcome letter format. This letter will include a header with your properties logo, contact information and other details to indicate which property the letter is for.

Custom Welcome Letters
Here you can create a custom template. 1) This can be done by clicking the Download Template button which will download a word document that you can edit to suit your needs. 2) Once you have modified the template to your liking you can attach it by clicking Choose File and selecting the modified template document. 3) Once your custom template has been attached click the Generate button to generate a printable PDF file with welcome letters for each of the users you have selected in your resident selection option.

Send Through Email
The second method of sending welcome letters is done through the Unit File. This option is best used when a new resident is added to your property, an existing resident has misplaced or has otherwise lost access to their previous welcome letter, or has not registered in the past and would like to do so now. The welcome email sent via this method cannot be customized.
Editing Email
When sending welcome letters via email there will be a box for you to modify the content of the letter as shown below. The information in [ ] will automatically fill depending on your workspace. The users unit number and access code will be automatically filled from the unit file. The access code is unique for each user and can only be used once to register their account. When you are ready to send your welcome emails you must click "I agree" and then the "Send" button. Once you have done so the welcome emails will be sent to the associated email address for each user you have selected to receive it.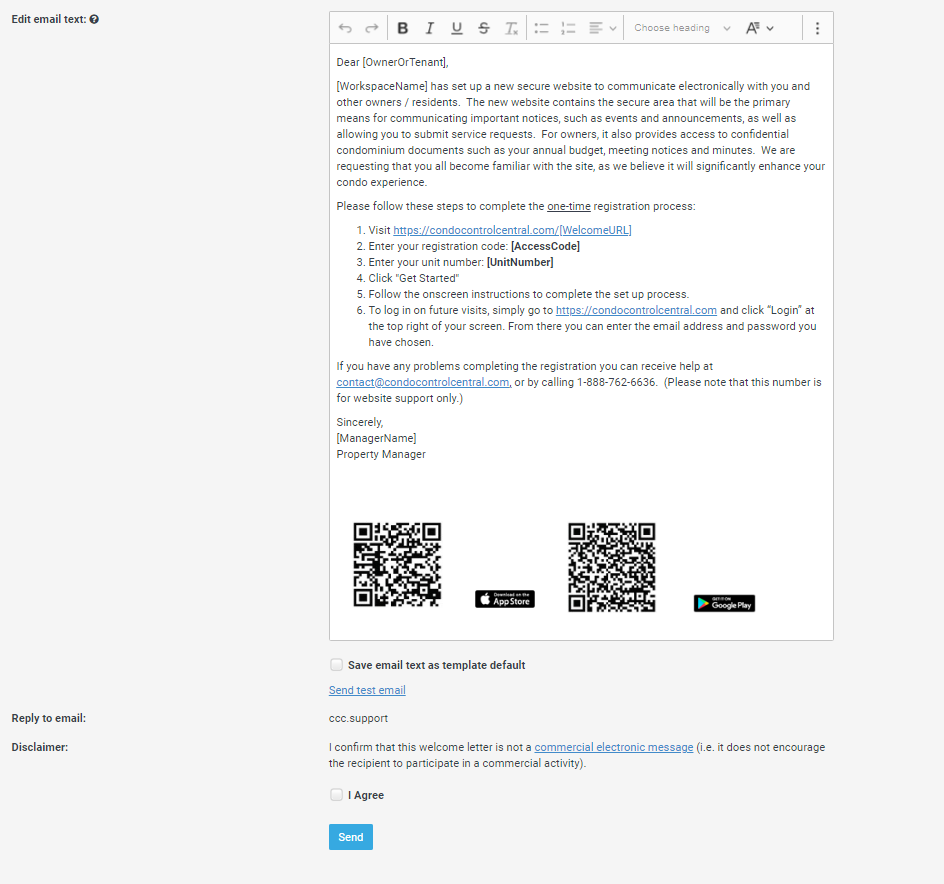 2) If you wish to send paper copies to users who do not have an email address on file, you can select the option "Show only users without an email address in the system".

3) The next option to select is who you wish to send the welcome letters to.
Groups
You can send welcome letters to either an entire group such as owners, renters, or residents using the group selection. Multiple groups can be selected at one time.

Units
You can also send welcome letters to only the residents of a specific unit, or to multiple units. This can be done by selecting the Units option in the Who should receive it field.

Groups and Units
The final option in this field is Groups and Units. This option send to only users who meet both criteria you have selected. In the example below, welcome letters would be sent to only the owners of units 003, and 004. Any non owners in the selected units such as renters or residents would NOT receive a welcome letter.